Haley's Corker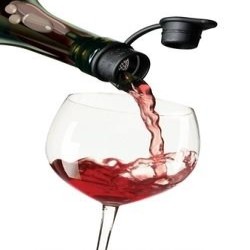 Proudly made in America from BPA-free, food-safe plastic; creates airtight, liquid-tight seal; store bottles upright or on their side without leaks.
Aerates newly opened wine and filters cork, sediment and tartrates as it pours; won't splash or drip; protects contents from dust and bugs outdoors.
Great for liquors, spirits, wines, coffee syrups, sodas, sparkling waters, cooking oils, vinegars, and more; keep tables and counters mess free.
Fits most standard-sized bottles; reusable; dishwasher safe.