Winemaker
---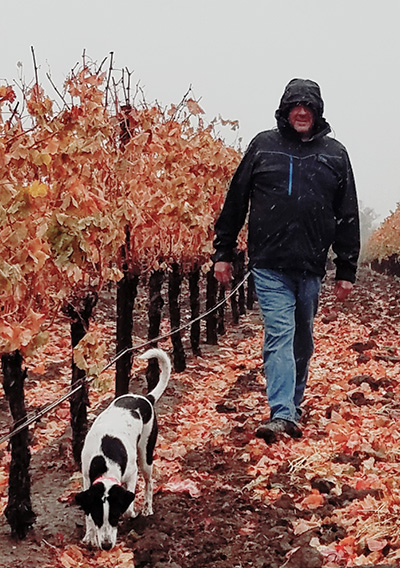 MARK HEROLD
PhD/WINEMAKER
Ever a student of life's curiosities, Mark Herold entered the world of wine through a path as unique as his style of winemaking today. Growing up in Panama, a confluence of cultures and cuisines, Mark developed a love for food exploration and cooking. "As a kid, I tasted and smelled everything! I was always underfoot in the kitchen. My first attempt at being an entrepreneur was making candy that I later sold at school. Rum, it turned out, was everyone's favorite flavor. It didn't make the nuns very happy." Initially seeking a culinary path in France, he settled on a domestic education. "It was hard to decide on a major. I was intrigued by so many things – photography, sculpture, film, ecology. After eight years my mother put her foot down, making it clear I needed to focus and that she always wanted me to be a doctor."
Mark began working towards his Ph.D. in Ecology emphasizing the Nutritional Biochemistry of Aquaculture from UC Davis. It was one semester in grad school that would lead him to what would become one of his life's greatest talents. His Biochemistry professor owned a vineyard in the Sierra Foothills and invited Mark to volunteer during harvest. Mark was immediately hooked. The perfect blend of art, science and culture. His curiosity along with his growing wine cellar led him to make his first barrel of wine in 1992. He quickly understood that winemaking and viticulture would be a career path perfect for exploring his passions.
In 1996 Mark was hired as the Research Enologist at Joseph Phelps or what he would later refer to as his "wine school." Mark's unique background in science and ecology would enable him to embrace a different approach to all aspects of winemaking research. He performed comparison studies regarding yeasts, fermentation dynamics, oak treatments and pressing regimes using replication and the scientific method. Through these studies, Mark was fortunate to be able to fine-tune the incredibly unique style of winemaking he's widely known for today.
Mark's enthusiasm for making wine took on a life of its own, leading to the creation of the critically acclaimed Merus in 1998; his first Cabernet label crafted at his home garage in downtown Napa. It put Mark on the map as a winemaker in Napa Valley. After selling Merus, Mark continues on his pursuit of making delicious, balanced, age-worthy wines through his portfolio of Herold Wines.