Steak Au Poivre Recipe
Pairs well with Herold Stagecoach Cabernet Sauvignon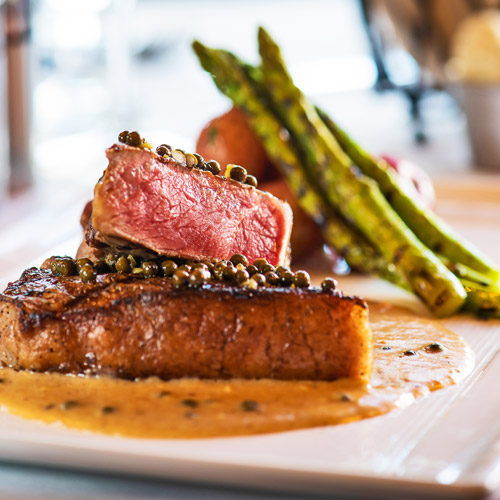 At the age of 15 I traveled to Europe for the first time and fell deeply in love with Paris, what seemed to be the culinary capital of the world. From an early age adventures with flavors and aromas beckoned me. It was in a bistro that I first discovered Steak au Poivre. My initial thought was "why would you ruin a good steak by covering it with all that pepper??!!". So I had to order it and my parents liberal and eager to expose their kids to life, poured us each a glass of red wine.
Steak and Cabernet might seem like an easy and obvious pairing to some, but why mess with a good thing? When thinking of a recipe for our 2016 Stagecoach Cabernet, my experience with Steak au Poivre or Black Pepper Steak with Green Peppercorn Sauce came immediately to mind. What I couldn't articulate at 15 with that "a-ha!" moment, I understand now. The richness and fat of the steak are a perfect match for the wine's body and tannins and the terroir-driven elements of chaparral, fennel pollen and minerality are highlighted beautifully by the pepper notes.
So allow me to share a bit of personal food and wine nostalgia. Enjoy this dish with pommes frites or roasted asparagus — and, of course, a generous glass of Stagecoach!
Traditionally, filet mignon is used to prepare this recipe, but I prefer to use thick, 35-day dry-aged USDA prime bone-in New York Strip (preferably from Fairway Packing company). — Mark Herold
Ingredients
Pepper Steak:
1 (16–18 ounce) bone-in New York strip steak
1 tablespoon Dijon mustard
Coarsely ground black pepper, enough to cover both sides of the steak
Grapeseed oil, use to sauté
Sea salt to taste (preferably Maldon sea salt)
Green Peppercorn Sauce:
4 tablespoons butter
2 cloves of garlic
¼ cup shallots, minced
8 ounces white mushrooms, sliced
1 cup beef stock
¼ cup heavy cream
1 teaspoon Dijon mustard
2 tablespoons green peppercorns, brined and drained
Directions
Pepper Steak:
Apply a thin coating of Dijon mustard to both sides of the steak.Sprinkle salt and cover both sides with the coarsely ground black pepper.Heat the oil in a heavy sauté pan over medium-high flame and cook the steaks on one side for 4–5 minutes and the other side for 2–3 minutes on the other side.At this point the steaks should be rare.Set aside covered.
Green Peppercorn Sauce:
Using the same (unwashed) pan, heat butter over a medium-high pan and sauté peppercorns, garlic and shallots for 1–2 minutes or until translucent. Turning the flame up a little higher add mushrooms and cook for 5 or so minutes. Add beef broth, cream and mustard and reduce by half. Add the cooling steaks to the finishedsauce and cook each side for 1 minute spooning the steak with sauce. Serve immediately with pommes frites or asparagus.